Linda Persson
artist in residence 10-18 June
pronouns she/her; lives and works in Småland, Sweden
Linda Persson mainly works through sculptural and cinematic methods that process difficult contexts around the colonial residue of landscapes, body and language. Through residencies and commission, often long-term over years situated in places such as The Eastern Goldfields Desert in Western Australia with the Wongatha women or in the Arctic with Sámi Dáiddaguovddáš.
Linda has a bachelor's and master's degree in sculpture / sound from Chelsea College of Art & Design and Winchester School of Art and a research year at the Royal Academy of Arts, Stockholm. She has shown at Momentum Biennale (2017) and was included in the book 100 Sculptors of Tomorrow by the publisher Thames & Hudson (2019). After 19 years living in London, she has now settled in the forest in South Sweden, where she self-initiated the text & podcast project Women in the Forest and works on a public commission at Huskvarna Folkets Park with The Public Art Agency in Sweden. She is also invited to work on a collaborative project:Intermission / the other within by the Samoan/Australian artist Brian Fuata at ANTI-festival in Kuopio in Finland autumn 2022.
As part of MONICA SJÖÖ The time is NOW and its overdue! Linda is working in Sjöö's spirit by embracing inclusive, shared and art as activism, bringing art to the streets. She has invited TEARS |OV to produce a live-score for the performative Memorial Ritual which honours the first 12 women accused, tortured and killed as witches in Småland 1550-1626. The following week Linda has invited artists Sam Hodge (15 June) and Rachel Fallons (16 June) to re-create their works and share processes via workshops and activism.
Supported by The Swedish Arts Comittee/Konstnärsnämnden.
Collaborative events:
Friday 10 June
Memorial Ritual by Linda Persson and Tears|Ov with collaborators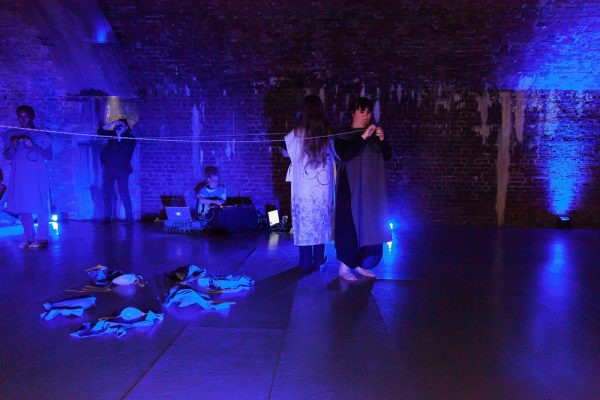 Tears | OV are Deborah Wale, Katie Spafford and Lori E Allen. They are an electro-acoustic trio producing soundscape and sample and sequenced based works in long form. Their are published on The Tapeworm, Bloxham Tapes and Industrial Coast. Together and in other collaborative practices they have performed at Tate South Tanks, Iklectik, Whitechapel and Chisenhale Galleries. In 2021 their most recent album Pluto's Return was named one of Bandcamp's Best Experimental. Other publications include Tears of the Material Vulture on the Tapeworm, A Hopeless Place on Wormhole Records, Girls Invented Noise on Industrial Coast and upcoming releases on Trouble in Mind. www.tearsov.space
Lori, Deborah and Lottie have co-composed the soundscape for Memorial Ritual, performed by Lori and Lottie.
Thursday 16 June
Linda Persson invites artist Sam Hodge to share their practice of grinding and printing.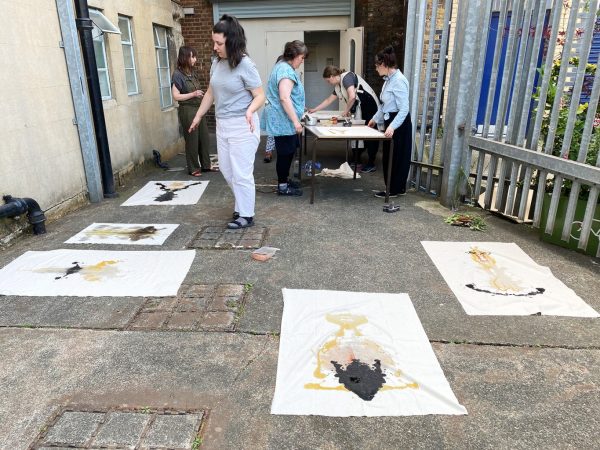 Friday 17 June
Linda Persson invites artist Rachel Fallon to share their practice of making protest garments. Walk to Westminster wearing garments for demonstration.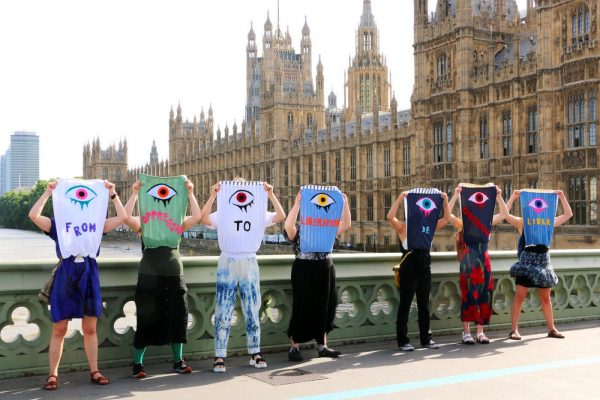 Rachel Fallon is a visual artist who deals with themes of protection and defence in domestic realms and addresses the topic of motherhood and women's relationships to society.
Her work encompasses sculpture, drawing, photography and performance and is firmly rooted in the processes of making. As well as an individual practice, she regularly collaborates with international artists and collectives; including The Artists' Campaign to Repeal the Eighth Amendment, Desperate Artwives, Grrrl Zine Fair and the Magdalene Series.
The two disparate ways of working feed into one another and are therefore equally important parts of her practice. She is a founding member of pff publications – a feminist zine. Her work is held in public and private collections including the Arts Council of Ireland Collection, the National Museum of Ireland and Goldsmiths Women's Art Library, U.K. She lives and works in Ireland.
Website: rachelfallon.com
Instagram: @rachelfallon3840