Beaconsfield Gallery Vauxhall was selected to be part of Art Night 2018 taking place on Saturday 7th July between Hayward Gallery, Southbank and Battersea Power Station.
Beaconsfield opens its entire site to Art Night London 2018 from 6pm with a continuous programme of all-women performances and artworks. To help us manage numbers, register here if attending Spirit_Off after 8pm.
Garden and Ragged Canteen 6pm-1am
7pm: Mel Jordan (Freee) and Dafna Talmor (Spaceship Earth), Collectivising Vauxhall- a public discussion about sustainability and collective action, with Botanical Cocktails available from the Ragged Canteen.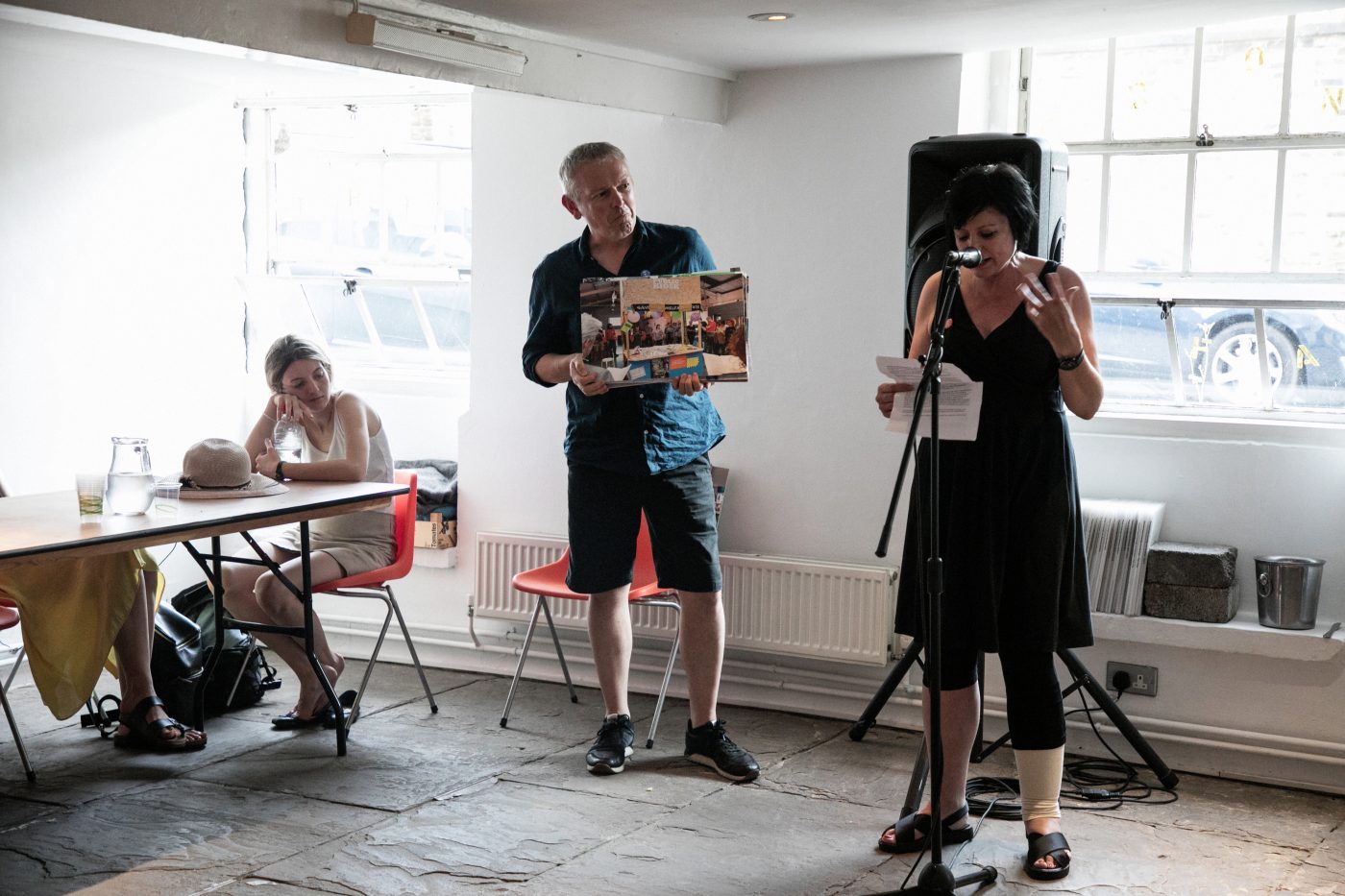 Vocalis performances throughout the evening:
Rose Gibbs, Feminist Speech Marathon– bring your own speech to declaim or perform a historic text
Ope Lori, Alpha and Beta (2015) split screen video.
Upper Space 6-11pm
Practice in Dialogue In Whose Eyes? exhibition open until 11pm in the Upper Gallery Space.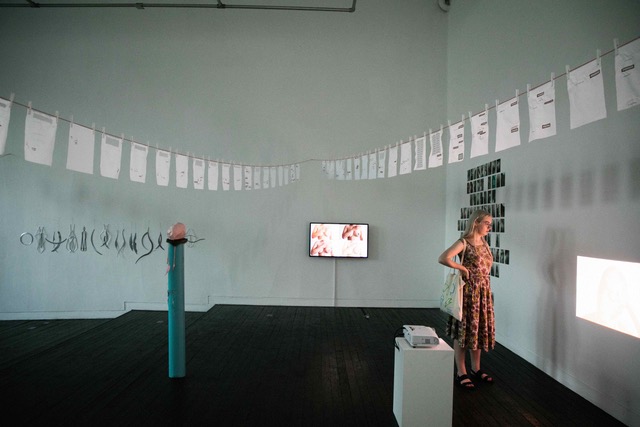 Miriam Austin, Ingrid Berthon-Moine, Cécile Emmanuelle Borra, Phoebe Collings-James, Rose Gibbs, Lora Hristova, Catherine Long, Ope Lori, Anja Olofgörs, Lauren Schneider, Martina Schumuecker, NT
6.30-8.30pm Catherine Long, The Body Keeps the Score, durational performance.

Arch Space 8pm-1am
Beaconsfield launches Spirit_Off a new series of experimental sound and performance experiences featuring:
ANTENES (NYC) immersive sound installation throughout with interventions:-
20.00 NT, Sterling Eyes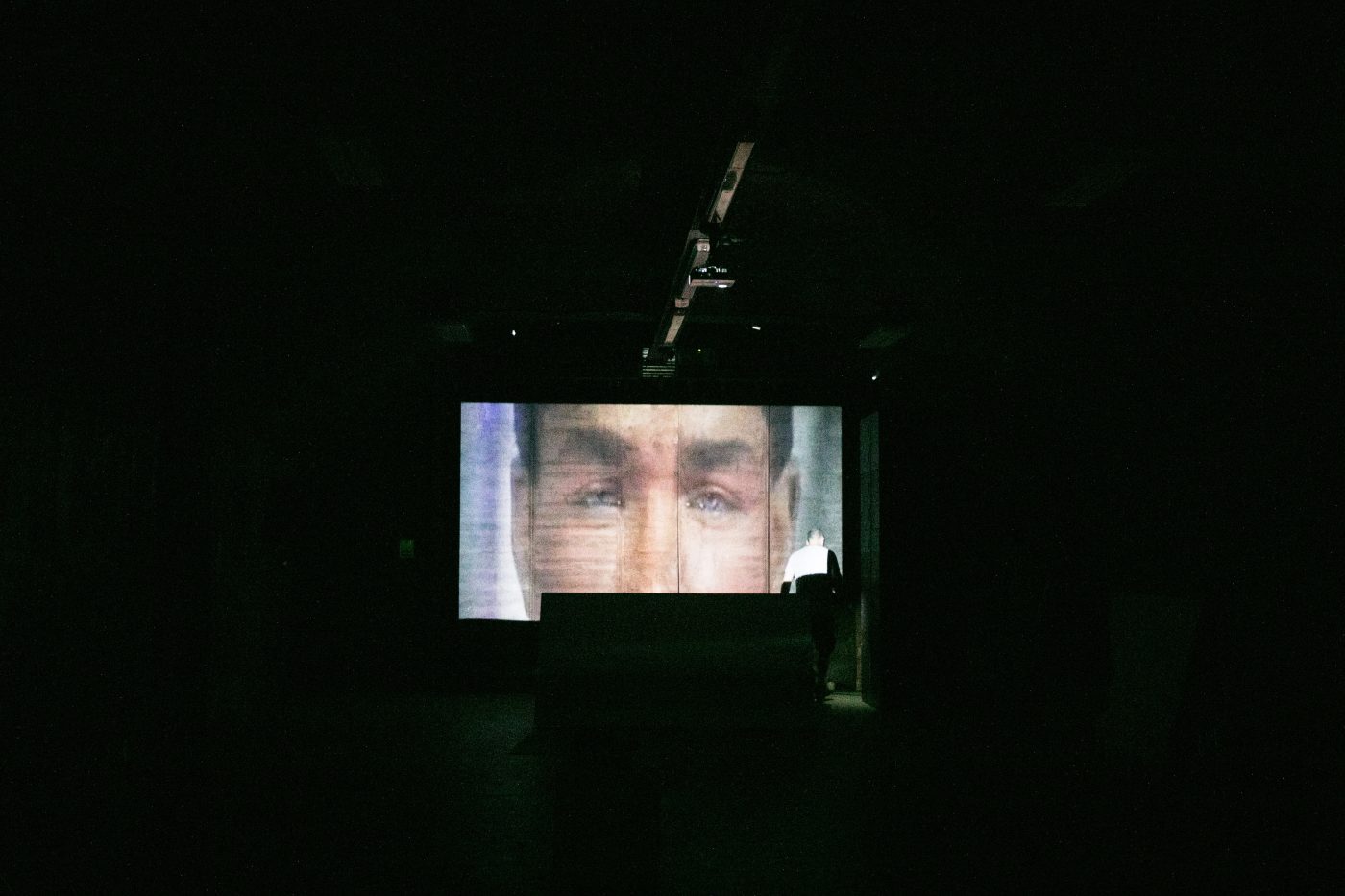 21.00 Martina Schmuecker, Re: Site (after R.M.)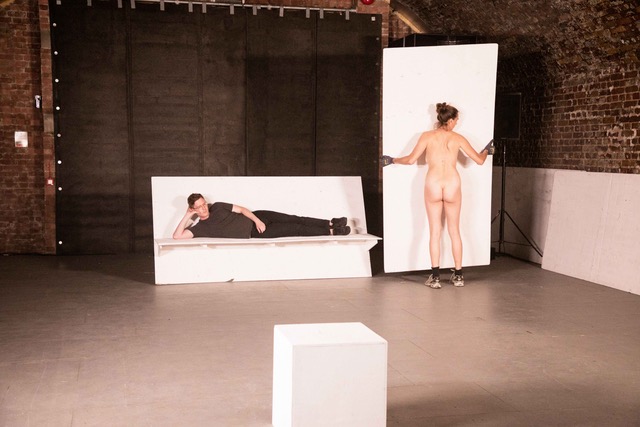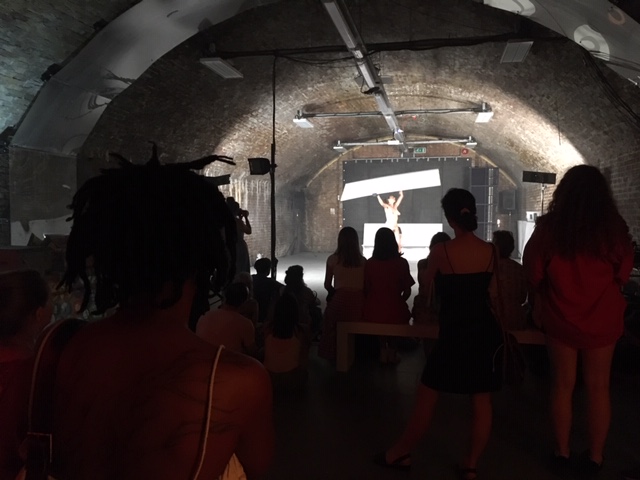 21.20 Rose Gibbs, Feminist Speech Marathon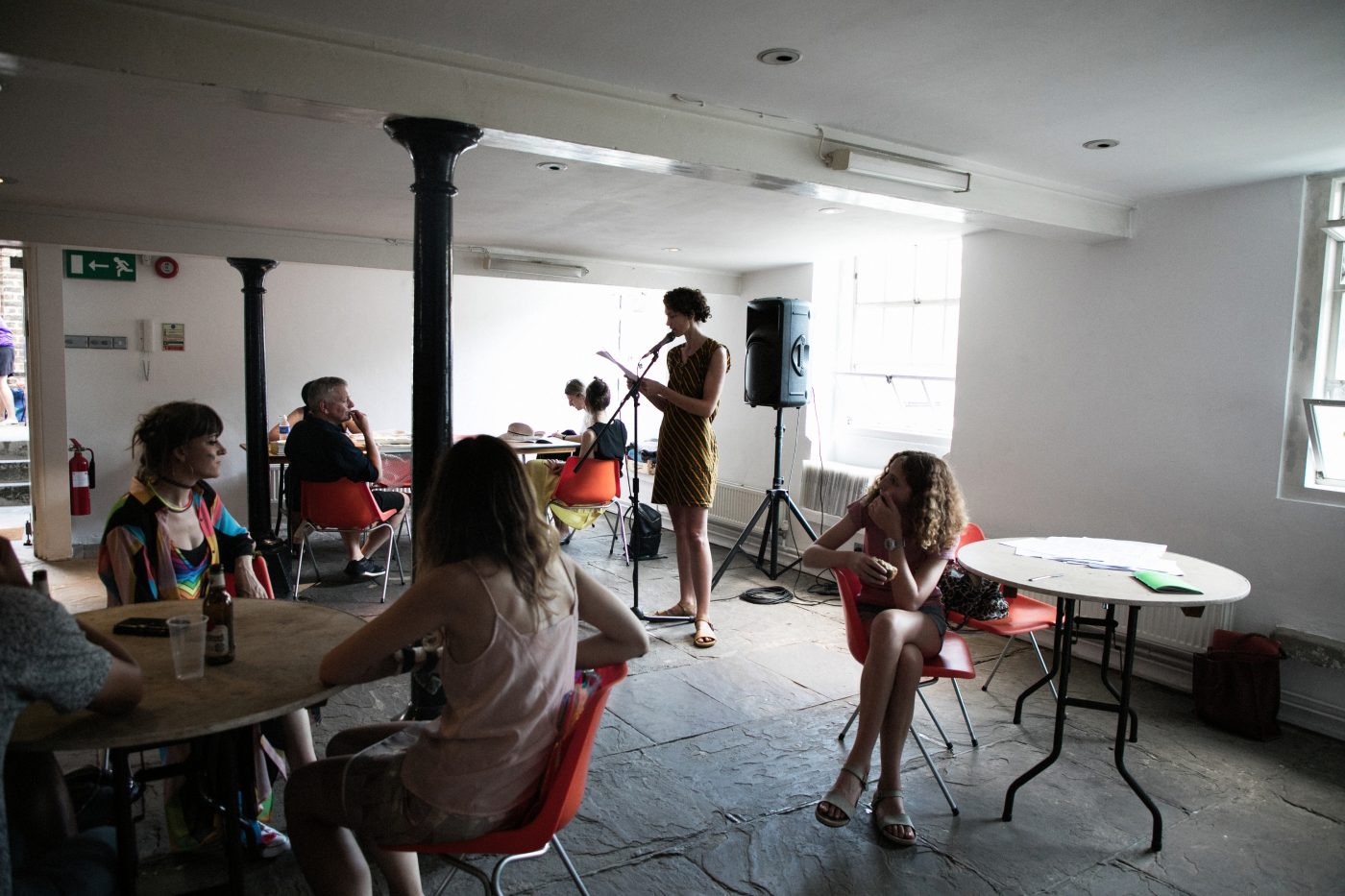 23.00 Ewa Justka exploring the materiality of the hidden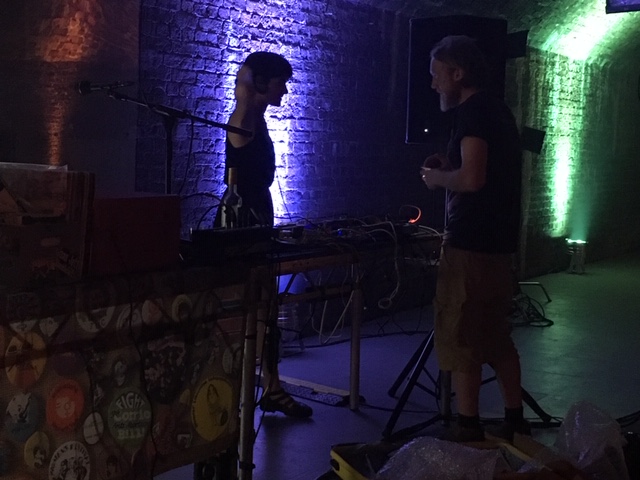 23.40 Rachael House, Feminist Disco: putting the disco into discourse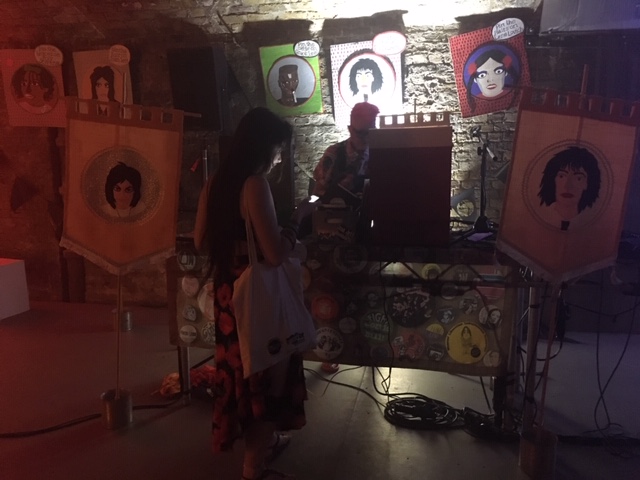 24.50 NT, Sterling Eyes.
Let the walls fall away and the sound and your mind take over…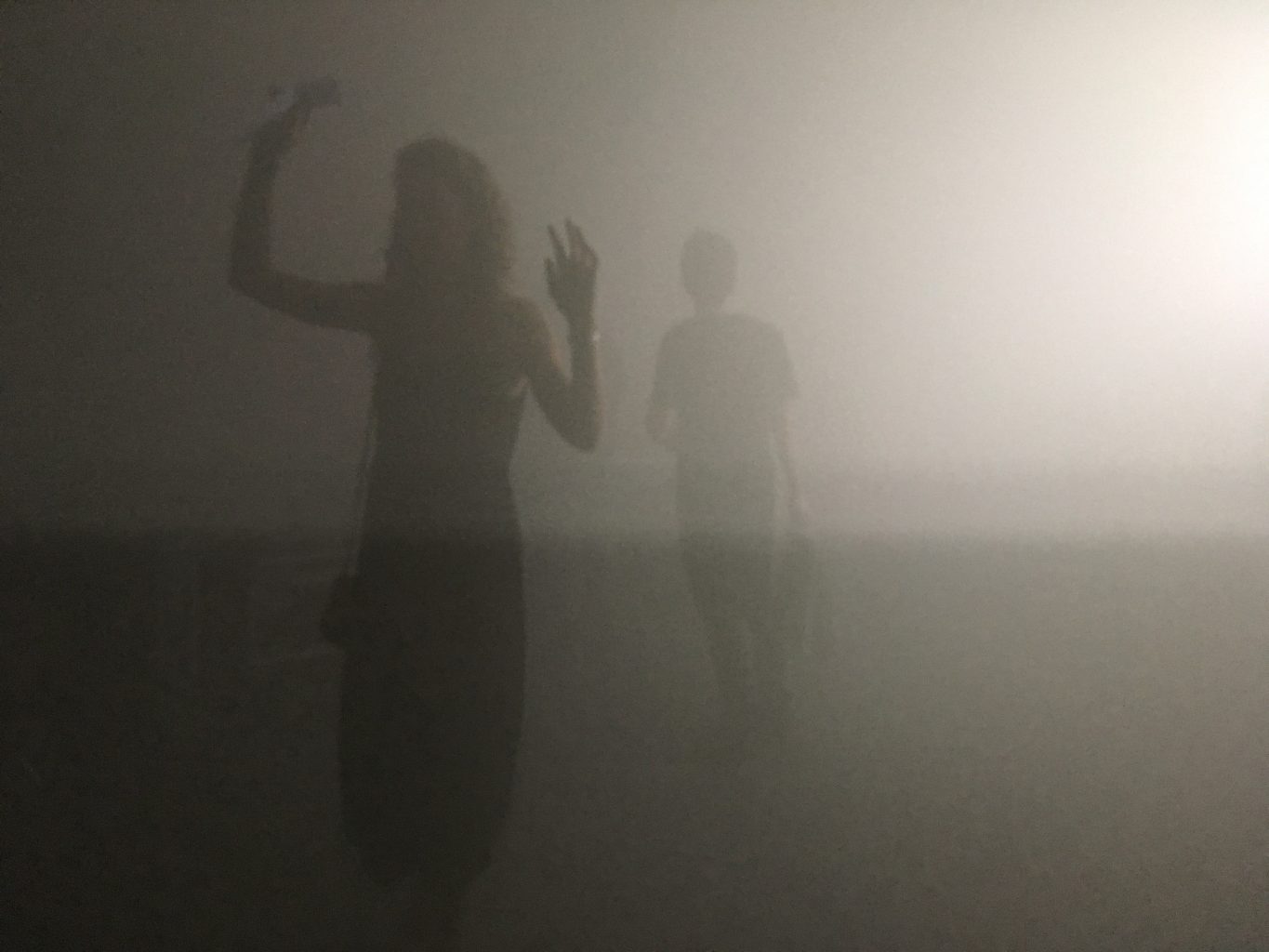 Beaconsfield events for Art Night are generously supported by the London Borough of Lambeth, Arts Council England, Cockayne Foundation and London Community Foundation.
More information about Beaconsfield's contributors to Art Night 2018
Practice in Dialogue In Whose Eyes?
exhibition
Practice in Dialogue is a group of artists dedicated to examining the formal structures and strategies of historical feminist art alongside their own art practices. Founded in 2014, Practice in Dialogue evolved out of a need to create a space in which to think critically about feminist art practices, where these are seen as ongoing works-in-progress that call for continual self-reflection and analysis. At a moment when capitalism has co-opted the language of feminism in mainstream media, the backlash against feminism has taken on its most virulent form: behaviours and products that are all part of the capitalist arsenal are recast as feminist tools of 'empowerment', while the derivation of that power remains strikingly unexamined. In this context the need for thorough and interrogative dialogue has become all the more urgent if feminism is to retain its potency.
The group have met on a regular basis over the last four years and previously shown work together at the ICA and The Showroom. Participating artists are: Miriam Austin, Ingrid Berthon-Moine, Cécile Emmanuelle Borra, Phoebe Collings-James, Rose Gibbs, Lora Hristova, Catherine Long, Ope Lori, Anja Olofgörs, Lauren Schneider, Martina Schmuecker, NT.
In Whose Eyes? is a collaborative exhibition by Beaconsfield Gallery Vauxhall and Practice in Dialogue jointly curated by Beaconsfield, Rose Gibbs and Catherine Long.
The exhibition is supported by Arts Council England, the Swedish Arts Council and CCW Graduate School. Art Night is additionally supported by Lambeth Council and Cockayne Foundation.
Catherine Long, The Body Keeps The Score, 2018
Dr Catherine Long works in collaboration with Rose Gibbs to coordinate Practice in Dialogue, which they co-founded in May 2014 in recognition of the need for women artists to have space in which to discuss their practices in the framework of feminist art practices and theory. The group meet on a bi-monthly basis for discourse, peer mentoring and critical discussion of their artwork. Stepping back from an organizational/curatorial role, Long has made a new work for the exhibition based on her recent experience of medical treatment for breast Cancer. Long refers to her history as a dancer in the partially therapeutic, durational performance, The Body Keeps The Score, performed twice a week in the exhibition space.
Rose Gibbs, Feminist Speech Marathon, 2018
Rose Gibbs works in collaboration with Catherine Long to coordinate Practice in Dialogue, which they co-founded in May 2014. They met when Gibbs was the director of the One Billion Rising Arts Festival, a campaign to end violence towards women and girls and she invited Long to present on representations of domestic violence in feminist art practices. Stepping back from an organizational/curatorial role, Gibbs has made a body of new sculptural works that provide reference points for feminist thinking, identity and representation. The sculptures exhibited in the Upper Gallery for In Whose Eyes? depict key figures from the history of feminism. For Art Night, Gibbs put out a call for people to present feminist speeches, contemporary and historic. A succession of speeches will be performed all evening. Visitors are invited to step up and perform if they feel moved and declaim from printed texts available.
Collectivising Vauxhall 2018
Mel Jordan is an artist and a founding member of the now disbanded Freee art collective. With Andy Hewitt she has recently formed The Partisan Social Club, a provisional group including artists, designers and researchers. She is head of Contemporary Art Practice at the Royal College of Art and Reader in Art & the Public Sphere. Jordan's work (as the Freee art collective) has fore-fronted the application of public sphere theory to the practice of participatory arts in order to investigate the relationship between art and its publics. Her work has been exhibited at the Istanbul Biennial and the Liverpool Biennial as well as BAK, Utrecht, Wysing Arts, Cambridge, Milton Keynes Gallery, SMART Project Space, Amsterdam, the ICA London, Centro Cultural, Montehermoso, Vitoria, Spain, the Collective Gallery Edinburgh, International Project Space, Birmingham and 1000000mph Gallery, London.
Dafna Talmor is an artist and lecturer based in London whose practice encompasses photography, curation and collaborations. Her work revolves around a preoccupation with notions of home, transnationality and utopian ideologies with a current focus on Constructed Landscapes, an ongoing photographic project that engages with representations of landscape – its tropes and pictorial conventions – through historical and contemporary references. Collaborative projects have included SpaceShip Earth at Beaconsfield Gallery and On Landscape Project, a traveling curatorial and research-based platform. Her work has been featured in publications such as FT Weekend Magazine, Elephant, BJP, Photomonitor, Camera Austria, ArtReview and Post-Photography: The Artist with a Camera (Laurence King Publishing). Shortlisted for the MACK First Book Award 2018 and the recipient of Arts Council England Grants for the Arts Awards, the Breathing SPACE Bursary and Photofusion Select Bursary Award, Talmor's recent group exhibitions include My London at Peckham 24, Inner Landscapes at Sid Motion Gallery, Synthetic Landscapes, curated by Meadow Arts at Weston Park, and solo shows at TOBE Gallery (Budapest) and Photofusion.
Spirit_Off sonic commission 2018: ANTENES
New York-based DJ, producer and electronics artist Antenes operates a laboratory of self-made sequencers and synthesizers using vintage telephone equipment. Known for her inventive soundscapes and eclectic DJ sets, Antenes treats the studio as a space for sculpting emergent patterns, textures, and percussion layers. A Brooklyn resident by way of Chicago, her DJ sets dive into hypnotic, acid-laced techno, shimmering electro, shadowy atmospheres and beyond, with a particular ear for odd percussions and syncopations. Her sensibilities as a DJ have awarded three of her podcasts (LIES 025, Juno Plus 119, and Phormix 44) to be featured in Fact Magazine's Week's Best Mixes column. Her production debut, The Track of a Storm EP on L.I.E.S. reveals three tracks of otherworldly techno infused with "lazer shot synthwork," "ghostly noise layers," "muscular bass shapes and sparking percussions,"(per Boomkat) appearing on the 2015 best-of lists for Juno and Fact magazine. Her label affiliations are set to expand further, with forthcoming releases on The Bunker New York and Silent Season. Antenes is currently an Artist in Resident at Issue Project Room, co-sponsored by Bell Labs.
For Spirit_Off, Antenes has composed a durational sonic environment for Beaconsfield's Arch space.
Spirit_Off interventions
NT, Sterling Eyes, 2016, single screen video.
Nicola Thomas makes work underpinned by black feminist theory under the name NT and has been a participating artist within the Practice in Dialogue group since its foundation in May 2014. Nicola Thomas also teaches at Winchester College of Art. As a black artist, NT's work brings a crucial perspective to questions of looking and re-looking and asks the question of how the artist can encourage people to reassess what is already familiar to them. NT has won a number of awards since she graduated in fine art. Her work S-time(2015) is exhibited in the Upper Gallery as part of In Whose Eyes? Thomas contributes to Art Night by offering Sterling Eyes (2015) as an intervention into the soundscape of Spirit_Off.
Martina Schmücker, Re: Site 2018(after R.M.), 2018
The performance Re: Site 2018(after R.M.) by Martina Schmücker retraces the 1964 performance Siteby Robert Morris, one of the early conceptualists associated with American Minimalism.
In this interpretation of the original choreography, Schmücker reverses the roles of male and female performer, whilst retaining a stripped back version of the original set. In Morris's version, the male artist performs clothed and includes a naked woman, after Manet, in the scenography. The figure has a clear reference to the seminal Impressionist painting Olympia(1856) by Édouard Manet.
The viewer is invited to concentrate on the interaction between the two performers; on the stillness and movement of the bodies in relation to the plywood boards within the space.
For Re: Site 2018(after R.M.)the original 1964 choreography is re-interpreted, worked through and changed to suit the new performers, emphasizing the similarities and differences between both performers enacting a similar set of movements. Like its 1964 predecessor, Site,the 2018Re: Sitemakes visible imbalances and vulnerabilities between woman and man: but in Schmücker's version the bodies are performing opposite roles to the original.
Re-site was first performed in 2012 at V22 Bermondsey for 'Residency in the Unconscious', Arthousefoundation.
The single screen video Re: Site 2018 (after RM) currently being exhibited in the Canteen Gallery as part of In whose Eyes? was commissioned specifically by Beaconsfield for this exhibition.
Martina Schmueker is a German artist who has been based in the UK since 2010 and joined the Practice in Dialogue group in 2016. Schmueker is an experienced artist and teacher; she is currently a visiting tutor at Ruskin School of Art, Oxford. Schmueker brings an international perspective to the group and has a strong knowledge of European feminist art practices, particularly in relation to performance and the moving image. Schmueker's experience and research is pivotal to expanding the Practice in Dialogue group's knowledge and understanding of international feminist positions and theory.
Rachael House's Feminist Disco- putting the 'disco' into 'discourse'
This is an art project calling itself a disco. It has taken place in art galleries, community centres, bars and music festivals, developing new twists and turns along the way.
Rachael House plays records on two dansette record players and calls it DJing. The records are by bands featuring women Rachael decides are feminist, made between approximately 1976-1983.These were turbulent years. During the so-called second wave of feminism, punk and post punk, The Grunwick Strike, Thatcher Government, Spare Rib, Rock Against Racism and The National Front. Rachael House's FeministDiscodoes not wallow in nostalgia. It looks at this time as one might peek under a plaster- is it healed yet? Is there shiny new skin? Pressing tender spots to check if they still hurt.