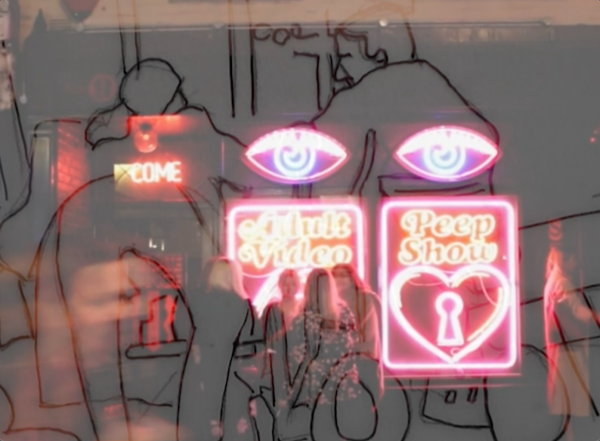 Art Sex Work: Brixton Hill Punctum
Art Sex Work is a nuanced reflection on sex work.  It is constructed through rhythmic editing, montaged and manipulated image and sound that traces some of the ethical complexities of the sex debates and its connection with disability through interviews with sex workers and found footage as well as filmed footage with actors and quotes. Taking footage and imagery from the contemporary moment and back to the early 1970s it builds a complex interlinked image, formally and conceptually of a particular cultural debate. The interviewees are in effect speaking back from today, to the twentieth century artist and filmmaker Stephen Dwoskin who inspired the film. Stephen Dwoskin (1939-2020) was a polio survivor and wheel-chair user and often worked with sex workers as actors in his films, one of whom, Cosey Fanny Tutti is in this film.  The film is organised through the loose thematic groupings of – joy, pleasure, frustration, debt, labour. and layered collage that, in addition to the interviews, comprises drawings, found footage from 20th films, found sound, footage shot by Dwoskin and shot footage by Garfield and a second sex worker interviewee.
Bio
Rachel Garfield is an artist and Professor in Fine Art at the University of Reading. Recent exhibitions of Garfield's video work include, The Royal Standard, group show Do They Owe Us A Living? (2022); Lincoln, Project Plus Gallery (2022) and Beaconsfield Gallery Vauxhall (2021) The Struggle: A Trilogy (solo show); a screening at the Star and Shadow, Force/Fields: Three Works on Conflict, Militarism and their Legacies, Newcastle, (2019), Unsensed, group show at the Hatton gallery Newcastle (2015), London Short Film Festival (2013), ICA London, Solo show Beaconsfield London (2012).  Other Exhibitions and screenings in the UK include, The Whitechapel Gallery, Wolverhampton Art Gallery, Focal Point Gallery Southend on Sea, London Short Film Festival and Open City Doc Festival in the UK and abroad in the Galerie du Presbytere, Saint-Briac, The Babylon Cinema Berlin, Espaciocentre, Tenerife Espacio De Les Artes, Oranim, Haifa, CCA Santa Fe, Arizona State University Museum, Aqua Art Fair Miami, Garfield's work has featured in, "An 'Other' History: Feminist Art in Britain Since 1970' Amelia Jones (eds. John Slyce, Adler, Phoebe), Contemporary Art in the United Kingdom, London: Black Dog Publishing, 2015; Garfield is author of Experimental Film making and Punk: Feminist Audio Visual Culture of the 1970s and 1980s, Bloomsbury (2021) and co-editor with Henry K Miller of Dwoskino: The Gaze of Stephen Dwoskin , LUX, (2022).