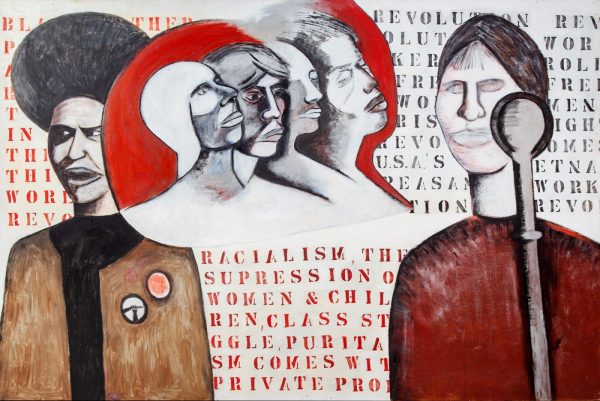 Wednesday, 24 August 2022, 6.30–8pm
Reading Group 3 'Feminism Interrupted: Disrupting Power' (2020) by Lola Olufemi
Led by Fran Painter-Fleming.
Find a PDF here if you'd like to read in advance:  'Solidarity is a doing word', from  Feminism Interrupted: Disrupting Power (2020) by Lola Olufemi
The Monica Sjöö Reading Group Series is programmed by emergent curator and researcher Fran Painter-Fleming who has been invited to bring the perspectives of a younger generation into juxtaposition with the issue-based work of Monica Sjöö and its interpretation by an older generation of 'Third Wave' feminists. Sjöö's imagery represents both the civil rights achievements of 'Second Wave' feminism and a vision for alternative futures. Painter-Fleming was struck by the urgency of Sjöö's work in the context of current debates surrounding the climate crisis, queer rights and contemporary feminisms.
Fran Painter-Fleming is a curator, writer and researcher based in London. Her curatorial research hinges on social memory, ecology and myth and her practice is grounded in slower methods of curating, working with artists or fields of research over extended periods of time.
Part of Monica Sjöö The time is NOW and it is overdue! exhibition at Beaconsfield.