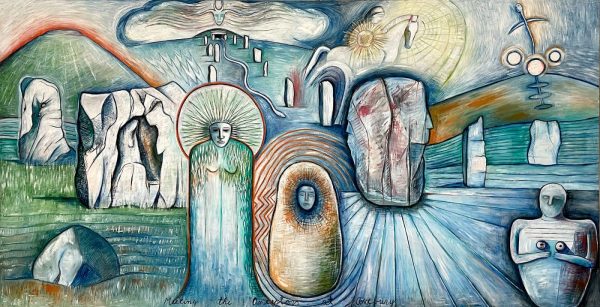 Friday, 2 September 2022, 3pm
Book on Eventbrite
Artist and filmmaker Anne Robinson is in residence in Beaconsfield's Arch Gallery, 24 August – 3 September working in response to Monica Sjöö's activist work in painting.
Robinson will lead a workshop on Friday 2 September, exploring the possibilities of 'Vocal Resistance', to conclude her residency.
Robinson's recent researches in Scotland have explored archival material about the Kirk sessions and repression of sexuality in the Scottish witch trials and beyond. Following a recent revisiting of Robinson's filming at Greenham Common, she considers its relation to her ongoing research related to histories of sexuality and the witch trials; using this material to explore archaeologies of voice and resistance. Particpants are invited to the Arch for 3-4.30pm for the Vocal Resistance workshop, followed by an Arch 'open' event 5-7pm, showing film clips and work from the residency and workshop.
Anne Robinson's 'Vocal Resistance' workshop is  followed by an Arch 'open' 5-7pm showing film clips and work from residency and workshop.
Part of Beaconsfield's exhibition  Monica Sjöö The time is NOW and it is overdue! and Peace Camp: The Imaginary of Greenham Common