Exhibition 17 July–6 November 2021
Wednesday– Saturday 12noon-5pm.
In VR I was able to pull the brushstroke out from perspectival space, into three dimensional, sculptural space. The headset requires a different way of viewing. It has no mid-point, distance or depth, but is a manipulative platform. I had to explore numerous ways to navigate this unusual space. I was literally immersed in a new reality that made me reassess my entire relationship with painterly space. Learning the technology was not the challenge, rather my emotional engagment with it: my caliagraphic gesture acquired an expansion of nuance.
Extended Realities exhibits paintings and drawings made during Jin Han Lee's Beacon_Transitions 2021 residency, influenced by her journeys into the extended reality of virtual, online space,  via a headset. Four new canvases are exhibited alongside three earlier paintings from 2019 and a video excursion into the world of the VR headset.
Jin Han Lee's painting is a joyous and often humorous representation of her personal life experiences, with an aesthetic problematic at its core. Challenging the known figure/ground relationship in painting, Lee seeks 'to undermine both Renaissance perspective and the flatness of Modernism by combining both' and, in the course of her research in the UK, has identified differences between Western and Korean concepts of time in abstract painting practices. It is this interest in a clash of space and time that prompted Beaconsfield to introduce Jin Han Lee to artsXR, a collective of three artists at the forefront of research and practice in digital immersive technologies.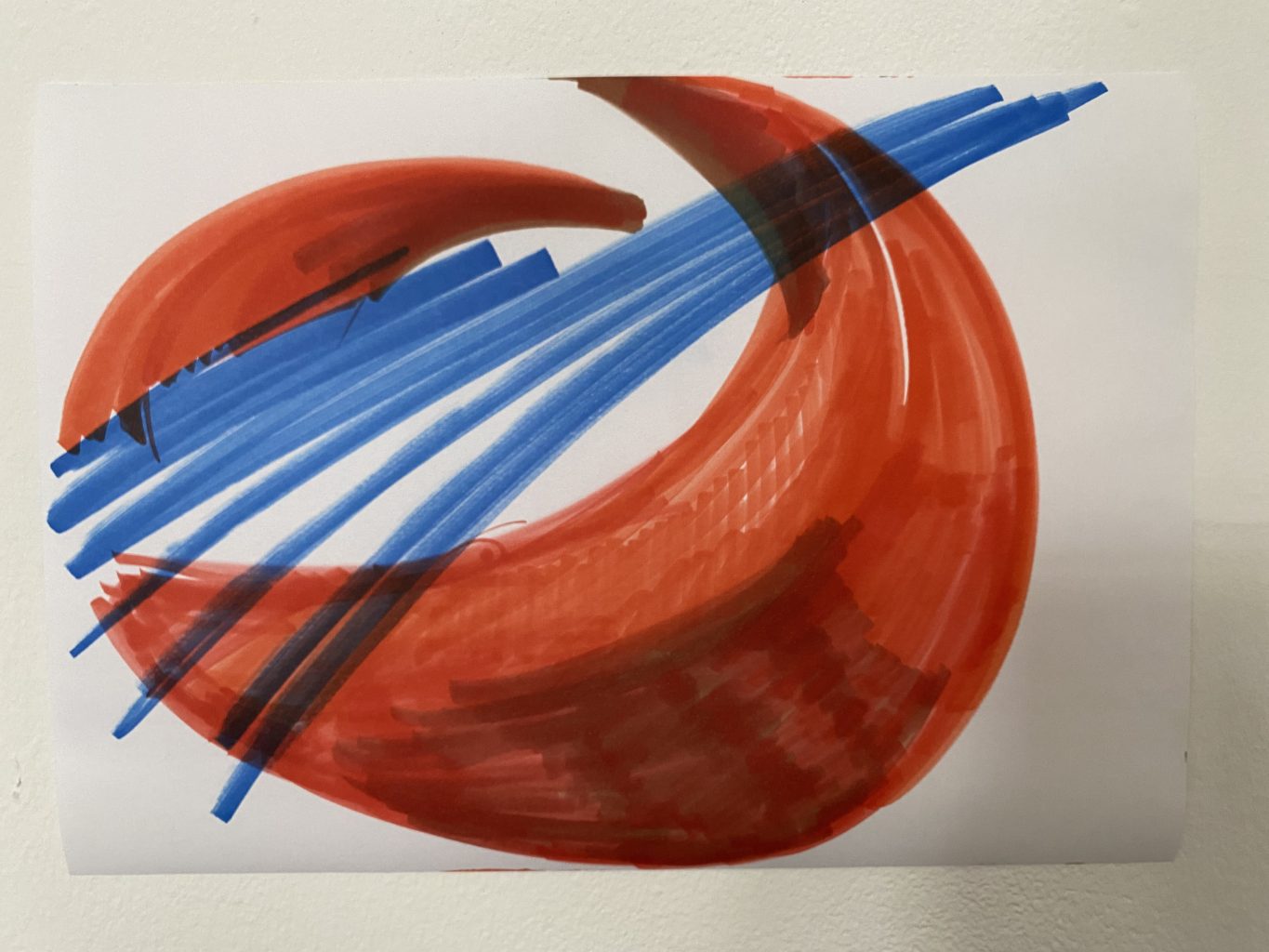 Extended Economies (online discussion)
Extended Economies Part 1: Entering the Metaverse on Saturday 21 August at 14.00 GMT
Extended Economies Part 2: Performing the Metaverse on Saturday, 11 September 2021 at 14:00 GMT
Extended Economies Part 3: The Future on Saturday, 2 October 2021 at 14:00 GMT
Join us wherever you are in the world  for an online discussion in immersive space about and the implications of online artworks and emerging NFT economies.
Register here for joining instructions by emailing anna@beaconsfield.ltd.uk
Extended Realities The Residency
17 May – 19 June 2021
As part of the Beacon_Transitions lockdown initiative, Lee took up residence in Beaconsfield's Upper Gallery space to make new paintings and–in the same time frame–explore the possibilities offered by immersive, three dimensional online environments. A creative collaboration with artsXR encouraged Lee to explore the possibilities of translating the virtual holographic gesture in the material medium of paint.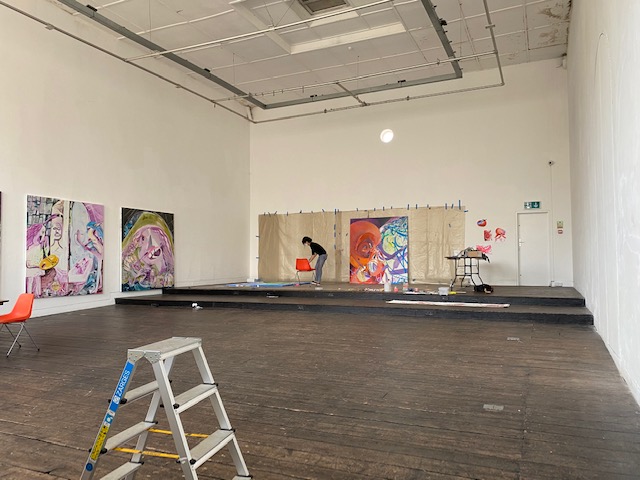 As lockdown eased and visitors returned to the gallery, Lee, as artist in residence, was remarkable for her ability to immerse herself in the solitary moment of painting under the public gaze. Donning a VR headset, Lee discovered the potential of an even deeper immersion into digital reality. The space of the headset and its software provides an intensified focus: a void in which all she can percieve is her own bodily activity of drawing. Whilst opening up new possibilities, the experience of the residency reminded her again of her priorities as a painter rooted in the discipline of material, pictorial space. Lee was able to explore her conviction of the need for representational space to be imaginatively revivented through the prism of today's realities. Embracing new technology to imagine anew, has Ied her to a renewed understanding of what she wants to achieve in pictorial space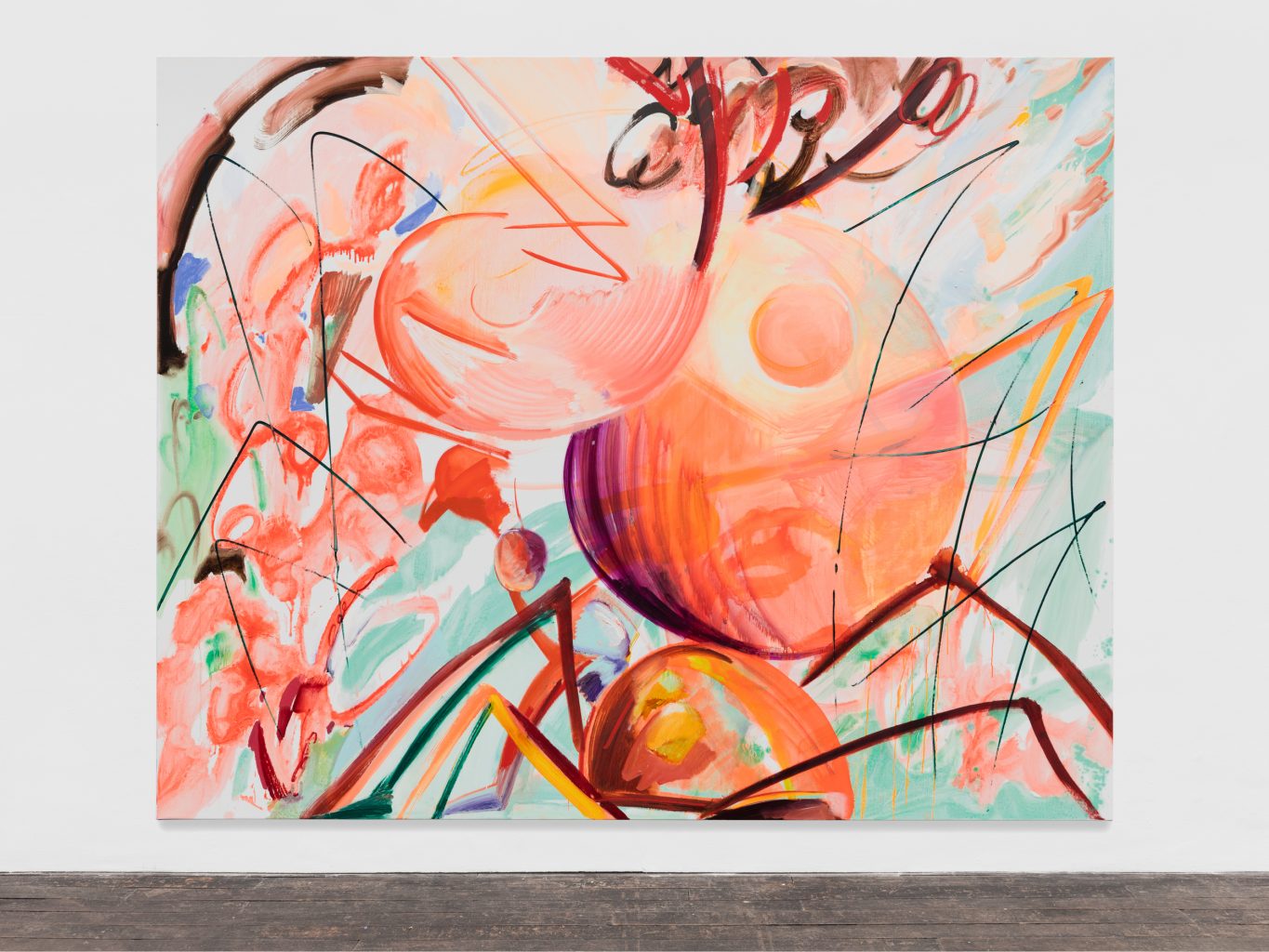 My painting practice, to me, is like performing a monologue under the brightest spotlight. When the spotlight turns on, I become blinded by it. Gazing somewhere in the pitch-black auditorium, I start my performance. This enables me to release my feelings freely. The invisible, or perhaps imagined, audience is chasing my moving body. They gaze at what I am looking at and imagine what I am feeling. I am conscious they are watching me. The audience becomes conscious that I am conscious of them. Here, my performance is private but shared with the public.
B_T6 Jin Han Lee Extended Realities is the sixth in the series Beacon_Transitions: a lockdown experiment wherein a virtual portal is opened by Beaconsfield for artists to explore in conjunction with the physical site.
B_T 6 Extended Economies – an online discussion in immersive spaceB_T6
Extended Realities The Residency 17 May–19 June 2021
B_T6 Extended Realities Visual Diary
Find out more about artsXR Extended Realities Immersive Production Studio
Jin Han Lee artist statement
Jin Han Lee CV
More about Beacon_Transitions